the most normal part of my Thanksgiving was watching Clemson lose to SC?
This was an unusual Thanksgiving. I'm not complaining in the least bit. I was surrounded by good people here in Germany and I'm blessed to have great relationships with family & friends in the States. So really there was love all around. It was just different this year. Not having RC around was the worst part and knowing he's stuck in "the sandbox" and can't really embrace/experience the holidays hurts my heart. Fortunately they had a fairly traditional Thanksgiving meal and were able to have some free time to have a ping-pong tournament.
So with a quick recap let's compare the difference between Thanksgiving in the States vs Germany...
Typical Thanksgiving:
THANKSGIVING DAY:
start the day with the Macy's Thanksgiving Day Parade
spend time with family
meet up with extended family
football in the background all day long
enjoy a deep fried turkey and all the southern fixin's ;)
nap after eating a ridiculous amount of pumpkin & pecan pie
BLACK FRIDAY:
breakfast at Cracker Barrel
hunt for the PERFECT Christmas tree
decorate said Christmas tree
play Christmas music since its AFTER Thanksgiving and the appropriate time to do so
PALMETTO BOWL:
surround yourself with family & friends .... even if they're Carolina fans
experience every range of emotion
(and for the last 4 years at least) pout because your team lost
practice extreme self-control and do not engage in the idiotic comments on Facebook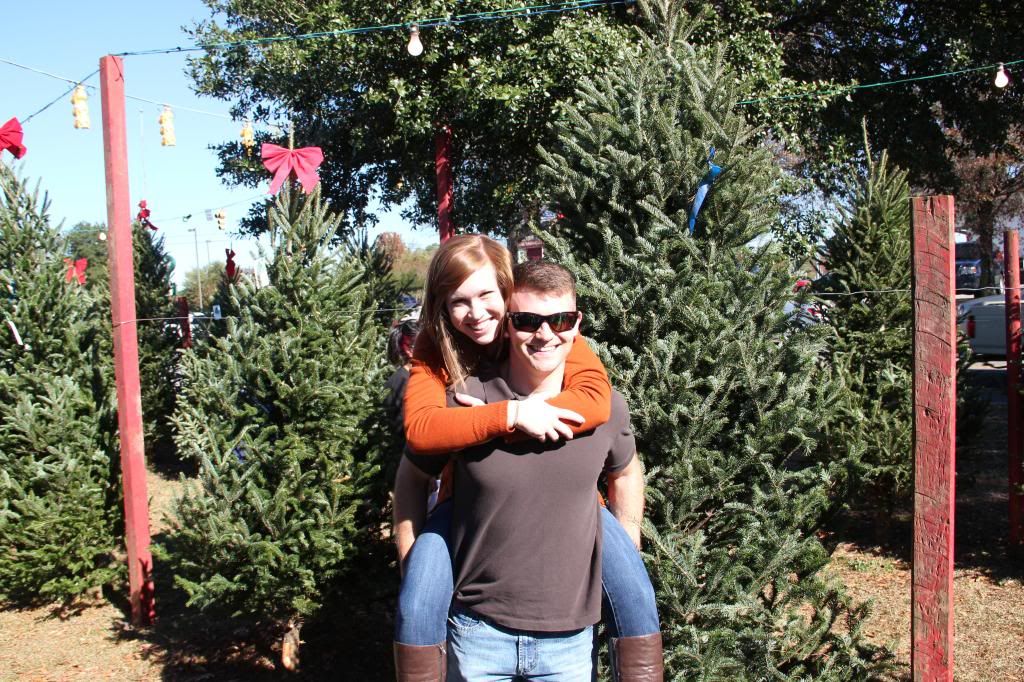 Black Friday-- Christmas tree shopping circa 2011


Thanksgiving in Germany sans husband:
THANKSGIVING DAY:
drive to a friend's house 40 min away
watch old hockey games??? yah, I know
eat squash soup, turkey, and mashed potatoes with leeks (a first!)
try gluhwein (forget spiked eggnog! I'll take gluhwein as my holiday drink)
wait the appropriate time to get behind the wheel
drive to another friend's house 30 min away
notice that there are babies and little ones EVERYWHERE
have your first taste of pumpkin pie
finally some football in the background
talk to your husband for maybe 10 min on the phone
know how blessed you are to have him in your life
quick Skype session with family
BLACK FRIDAY:
sleep in
realize that the PX has nothing remotely worth getting up for
come to terms with the fact that you will not have a Christmas tree this year
nor will you decorate for Christmas (highlight: because YOU'RE GOING HOME)
jealousy sets in... your family is eating hashbrowns & pancakes at Cracker Barrel
you had granola cereal for breakfast
watch Fringe for the majority of your day :)
PALMETTO BOWL:
stay up until kick off at 1 am
Skype with brother & SIL during the entire game (BEST part)
feel less crazy when yelling at the tv because you're watching "with" someone
experience every range of emotion
pout because your team lost AGAIN
practice extreme self-control and do not engage in the idiotic comments on Facebook
go to bed because it's 5 o'clock in the morning