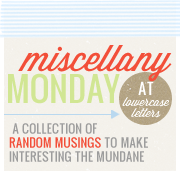 Two weekends ago, yes I am that behind in blogging, Ross and I joined friends at Octoberfest. It was nice little practice for Germany-- who am I kidding, it was more like a fair than Germany. But it was still a lot of fun. We bought funnel cakes, italian ice, and "Hillbilly Bob's Lemonade", loved up on our friends' dog and enjoyed the beautiful weather.
It's not much, but I put up some fall decorations. I accumulated these while working at Yankee Candle. The wonderful thing about the YCC's Semi Annual Sale is they sell all the props for like 75% off. So, I spent maybe $3 for both pumpkins and maybe $5 for Mr. Scarecrow. He has creepy hands, but I still love him. I'd definitely like to add to my fall collection. I've bought a cinnamon broom- which is essential fall to me since my mom always had one. But trying to brainstorm what else to buy on the cheap! By the way, have I mentioned I'm not big on Halloween decorations? (or Halloween at all-for that matter) Am I the only one?
Okay so I've had this beauty (Canon Rebel T2i plus a 18-135 lens) since May. I haven't ventured out beyond the automatic settings and would love to really use this thing to its full potential! Does anyone have any resources they'd like to share about using a DSLR? Like changing the aperture, etc?